"Democrats Against the Death Penalty" will meet 10-11 AM Friday, June 8, 2012 at the Texas Democratic Party State Convention in Room 370 ABC at the George R. Brown Convention Center.
Everyone is invited to attend, learn more about the issue and join the effort to end the death penalty in Texas. Visit the event page on Facebook.
Guest speakers include:
Clarence Brandley, an innocent man who spent ten years on Texas death row for a crime he did not commit.
Elizabeth Gilbert, who was a close friend of Todd Willingham, an innocent man executed by Texas. Elizabeth's role in Todd's fight to prove his innocence was told in the article in The New Yorker by David Grann "Trial by Fire". Senator Rodney Ellis said in the most recent issue of Texas Monthly, "I'm convinced [Cameron Todd] Willingham was innocent".
Candidates and elected officials are invited to drop by our meeting to introduce themselves.
Our caucus meeting was first held at the 2004 State Convention. We have met at every State Convention since 2004. We were responsible in 2004 for persuading the TDP to include support for a moratorium on executions in the party platform, as part of a completely new section of the platform entitled "Capital Punishment" that sets forth the party's position on the issue. It has been included in every TDP platform since 2004.
Visit the shared Texas Moratorium Network and Democrats Against the Death Penalty booth in the exhibition area. We will have DVDs for purchase of the award-winning documentary "Incendiary: The Willingham Case" by Austin filmmakers Steve Mims and Joe Bailey Jr.
We urge every delegate to support the resolution to repeal the death penalty that will be considered by the Resolutions Committee on Saturday. At the 2008 TDP Sate Convention, the Resolutions Committee passed a resolution in favor of abolishing the death penalty but the convention adjourned before it came up for a vote on the floor. Some other state Democratic parties have already passed resolutions calling for repeal of the death penalty. Just last week, the New Hampshire Democratic Party passed a death penalty repeal resolution. The California Democratic Party platform supports abolishing the death penalty. California will vote on ending the death penalty this November in a ballot proposal.
The death penalty has been repealed in the last ten years in New York, New Jersey, New Mexico, Illinois and just this year in Connecticut. California may be next.
Texas Democrats should go on record in 2012 to repeal the death penalty before Texas executes another innocent person.
To read extensive documentation on the case of Carlos DeLuna, another innocent person executed by Texas visit this website by the Columbia Human Rights Law Review.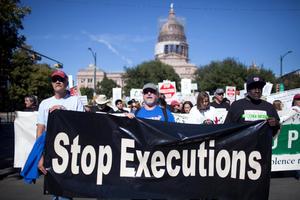 Death row exonerees leading a March to Abolish the Death Penalty in Austin. The 13th Annual March to Abolish the Death Penalty will be November 3, 2012 at the Capitol in Austin.